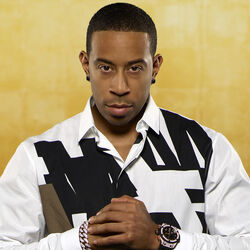 Ludacris is an expert on Rising Star.
Biography
Multi-Platinum-selling, Grammy Award(r)-winning artist and actor Ludacris has been a mainstay on the Billboard Music Charts since 2000, when he released the hit single "What's Your Fantasy?" off his debut album Back for the Fantasy. He has since released a string of hits that have included Billboard Hot 100 number ones ("Stand Up," "Money Maker") and Top Tens ("Move Bitch," "Splash Waterfalls," "Pimpin' All Over the World," "Runaway Love"), as well as Hot R&B/Hip-Hop Top Tens ("Southern Hospitality," "Area Codes," "Rollout [My Business]," "Saturday [Oooh Oooh!]," "Get Back," "Number One Spot"). Ludacris has also been a reliable featured guest on Top Tens for Missy Elliott ("One Minute Man," "Gossip Folks"), Mariah Carey ("Loverboy"), LL Cool J ("Fatty Girl"), Chingy ("Holidae In"), Usher ("Yeah!"), Ciara ("Oh"), Jamie Foxx ("Unpredictable"), Fergie ("Glamorous"), and others.
Ludacris is currently filming Fast and the Furious 7 for Universal Pictures, which has proven to be one of the most successful movie franchises of all time. As an actor, he has received critical acclaim for his role in the film Crash for which he won both SAG and Critics' Choice Award.
Ludacris is also a dedicated philanthropist, whose passion for giving back to the community inspired him to establish the Ludacris Foundation in 2001, a non-profit organization which seeks to inspire youth through education and memorable experiences and to live their dreams by uplifting families, communities and fostering economic development.
Community content is available under
CC-BY-SA
unless otherwise noted.